5 Loft Bed Ideas for your small bedroom spaces in Malaysia | rekatone.com
Loft bed ideas for you to help you to make the most of your bedroom space and add on with new spots such as working space, storage and more.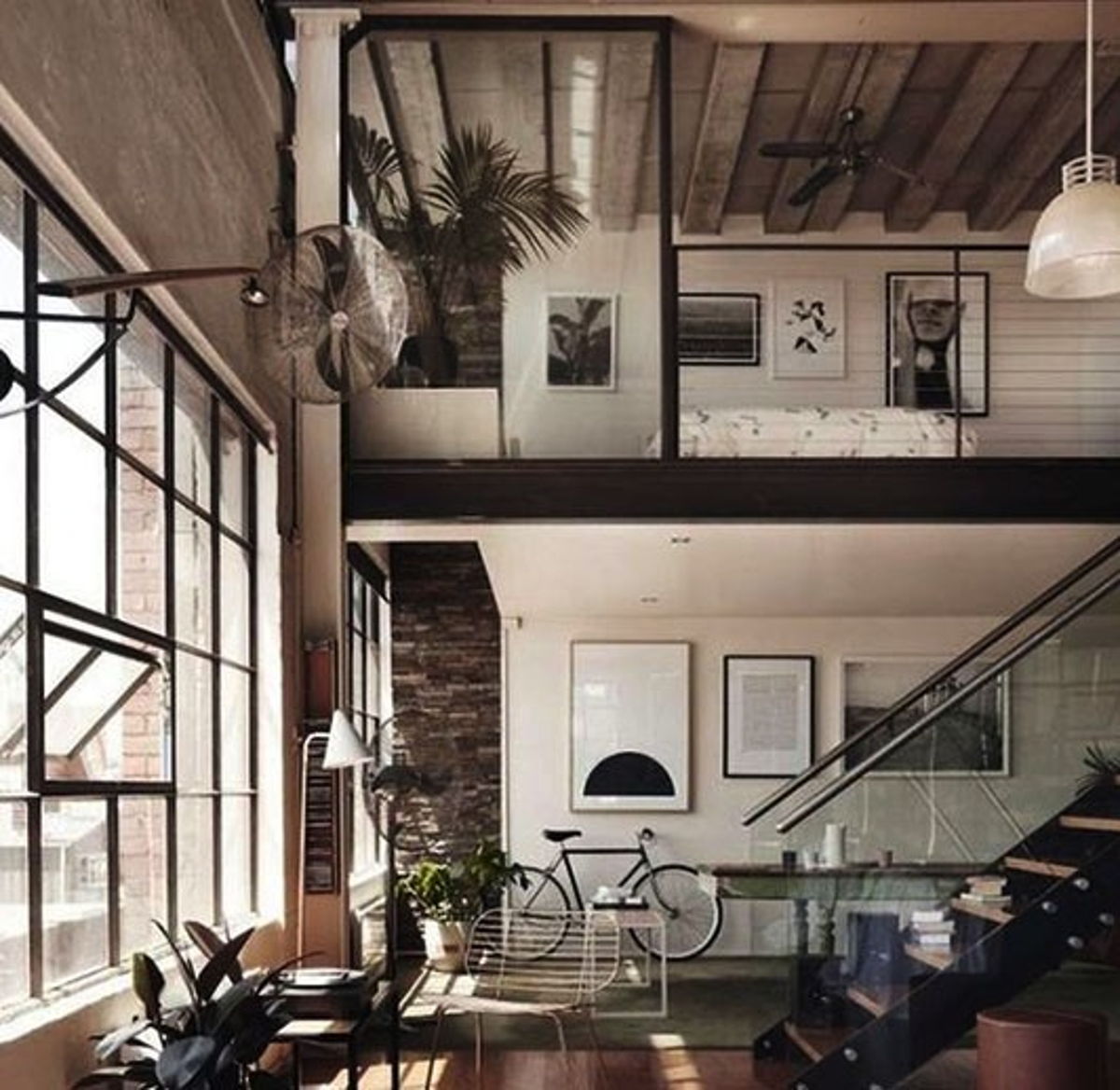 Many young generations are tending to seek for a small studio apartment to stay in when they travel all the way to the big city to work which including young adults in Malaysia. This type of property is affordable, located in a convenient neighborhood and on the whole space is enough for an individual to stay in. The disadvantage of staying a small property is that it is not spacious and hence there is a limitation in the interior space. From here, we've gathered a few loft bed ideas for you to help you to make the most of your bedroom space and add on with new spots such as working space, storage and more. If you're staying in a small property, you're on the right page.
1.

Storage loft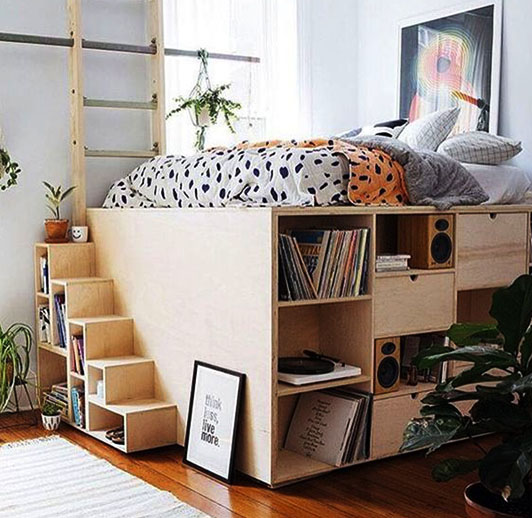 We will never have enough space for our personal aspects and in need of getting more storage in placing them. If you're under a small roof, you may try this lofted bed design with cabinets, drawers or shelves underneath your bed! This design will help to build up a character for your room and at the same time, you will have extra storages to place your aspects and other essentials.
2.

Office loft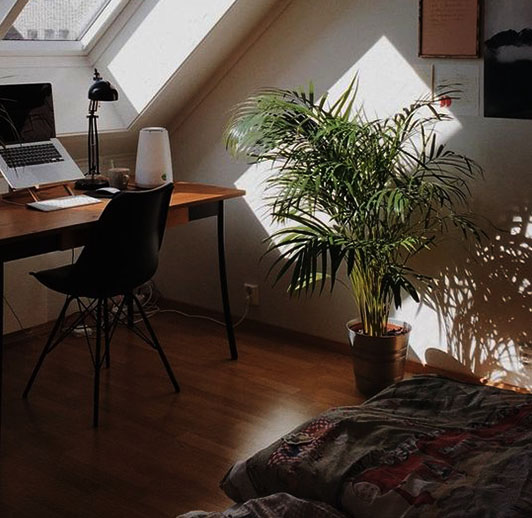 A small space always limits our creativity in the interior. However, this doesn't stop us from getting a stylish and comfortable space for ourselves. If you're a workaholic or would prefer a space that is specifically just for work, this bed loft idea may be the one for you of having a home office dream come true! Carry on with this idea, it is better that you create your workstation on top of your loft area alongside your bed. All the equipment that you need to complete this loft bed idea is a small desk, a light stand and a chair to get going with your work.
3.

Closet loft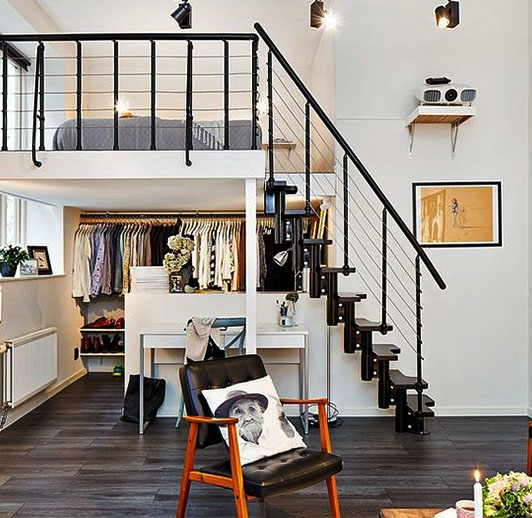 We understand that some individuals have a ton of clothes and due to the limitation of the space. It has caused us to be unsure of where to place our additional attires. If your closet has a high ceiling, it is a bonus for you to get going on making yourself extra storage for your attires. However, you can consider another way by create an extra bedroom. We suggest that you should create an extra bedroom so that you can always store extra attires up there when you are not welcoming any guest to your space and you can get a place for you to take a rest as well.
4.

Bedroom loft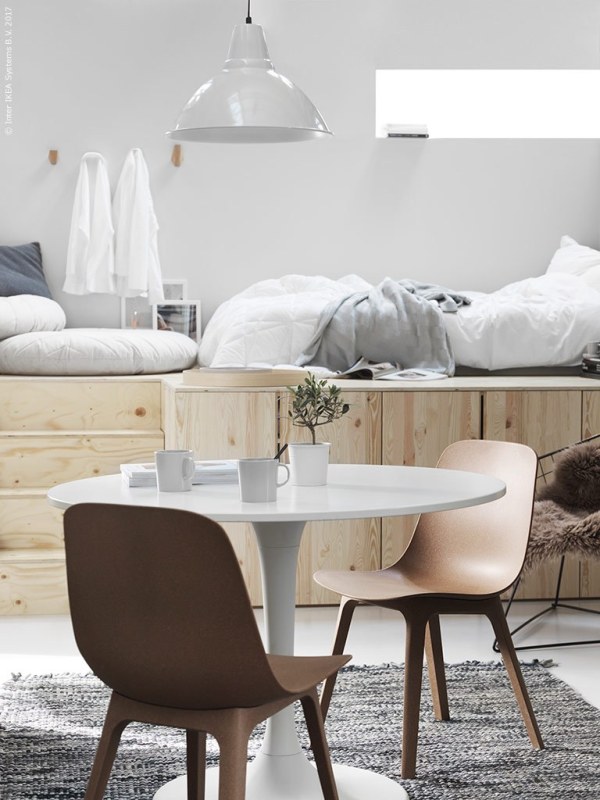 The design of a studio apartment combines all rooms into one which is a suitable estate for an individual or a couple to stay in as the space is undoubtedly transparent. If you wanted to make your studio feel like a one-bedroom apartment, you can take your entire bedroom to new heights! Complete the entire lofted room with all the bedroom furnishing such as nightstands, lighting, a small wardrobe stands for your attires and small bookcase for your decorations and of course, your books. Let's get started now if you're interested in this idea.
5.

Floating loft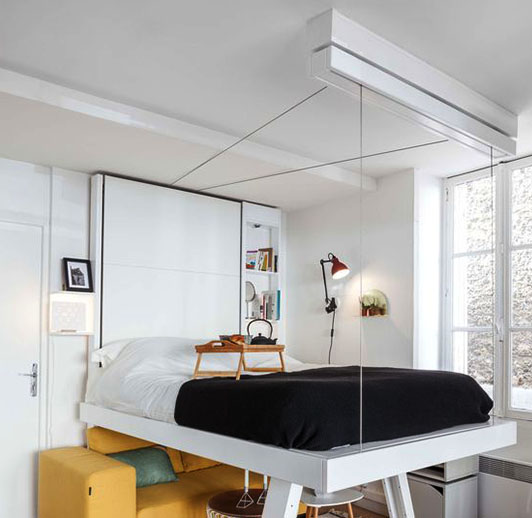 This is an incredibly interesting loft bed idea and you might need to be bold to go on with. If you're more into a traditional floating bed loft idea, all you need is to get a little help from professional to hang your bed and not to forget your ladder to climb up, as well. With the advancement of technology today, you can get a modern and technical floating loft bed. This design doesn't require a ladder for you to climb on top as you get a remote to control the movement which is pretty convenient and space-saving.
Isn't this amazing that creativity in interior design never dies and always has its way to deal with our space issue? If you're worried about your home space, rekatone.com is a one-stop interior design online platform that will help you with the problem. Feel free to contact us and we will insist you with your needs!
Photo Source: PINTEREST