5 beautiful bedroom interior design in Malaysian homes by talented Malaysian interior designers
Collection of beautiful bedrooms interior design that were created by Malaysian interior designers and renovation contractors listed on rekatone.com.
Designing a bedroom might be the most exciting part when it comes to home interior design and renovation. In Malaysia, the bedroom is not just a functional room that gives us relaxation and rejuvenation. It has transformed into a living space that we can work and study which makes bedroom the perfect place to unleash creativity in interior design. We have collected these beautiful bedrooms interior design that was created by Malaysian interior designers and renovation contractors listed on rekatone.com.
1.
Upholstered headboard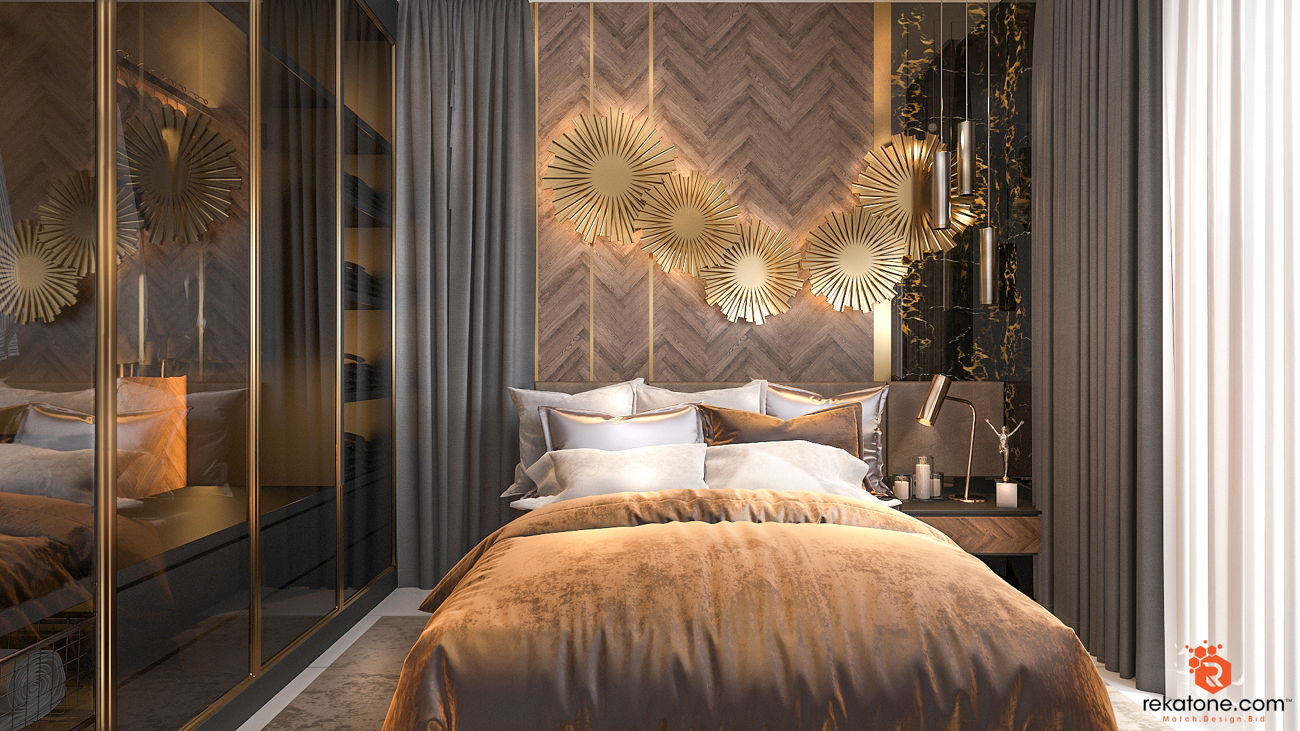 In today's Malaysian bedroom design, upholstered headboard is the popular material that most Malaysian homeowners would like to include into their bedroom and the reason for placing upholstered headboard for their bedroom is simply obvious. Install upholstered headboard doesn't just help in giving an enhancement to a bedroom, it is also helping in improving the comfortability inside your bedroom. Besides, upholstered headboards are rich in different design which allows us to pick upholstered headboard that matches your interest.
2.
Feature wall with decorative wall panel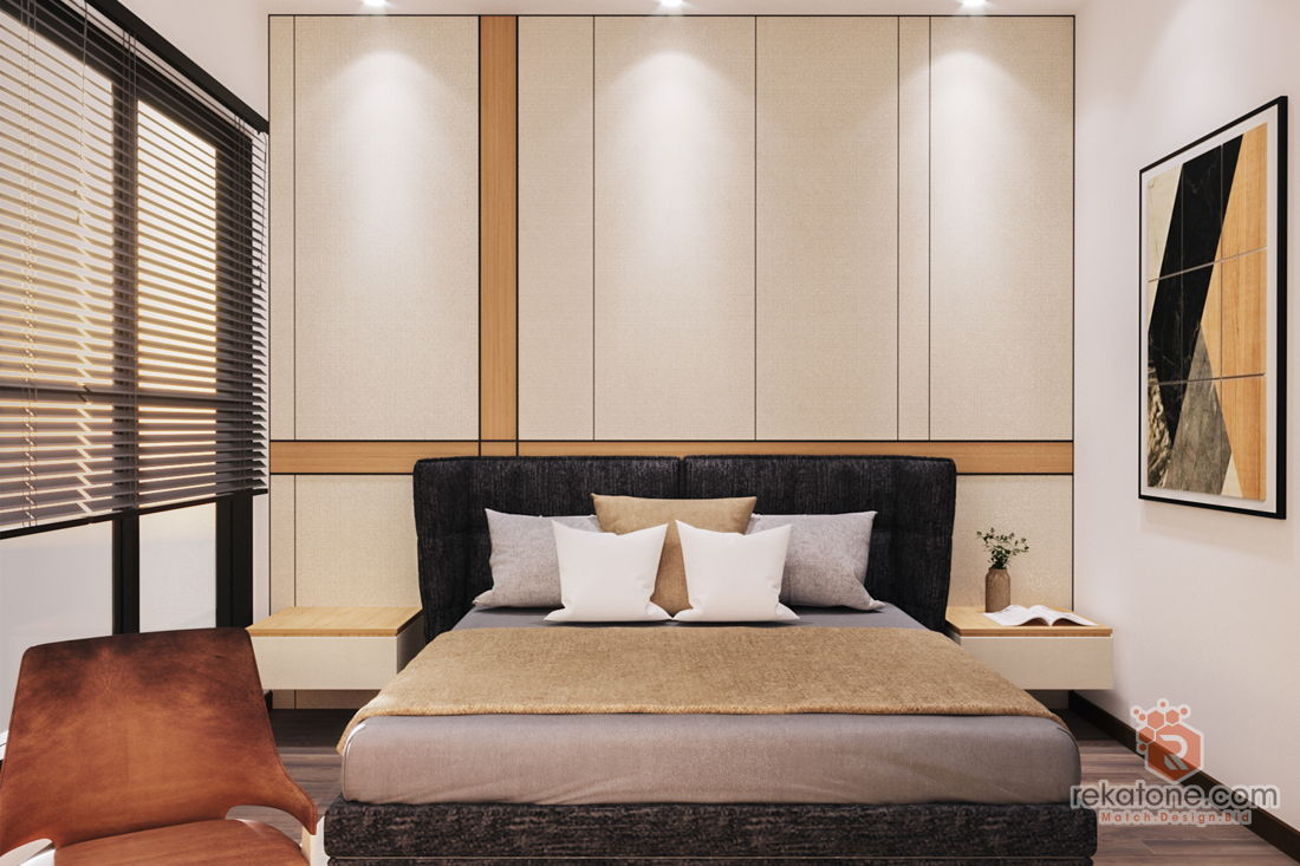 Aside from painting bedroom with colours, another way that can help in enhancing the bedroom is installing a decorative wall panel as it offers a range of design for the homeowner to style their bedrooms. This result that the material is perfect for homeowners who seek for unique walls. On the other hand, the best benefit in installing decorative wall panel is with its durability which helps to protect walls from wear and tear. Hence, this benefit leads many Malaysian homeowners to choose to build in decorative wall panel as a part of their bedroom design.
3.

Feature wall with glass panel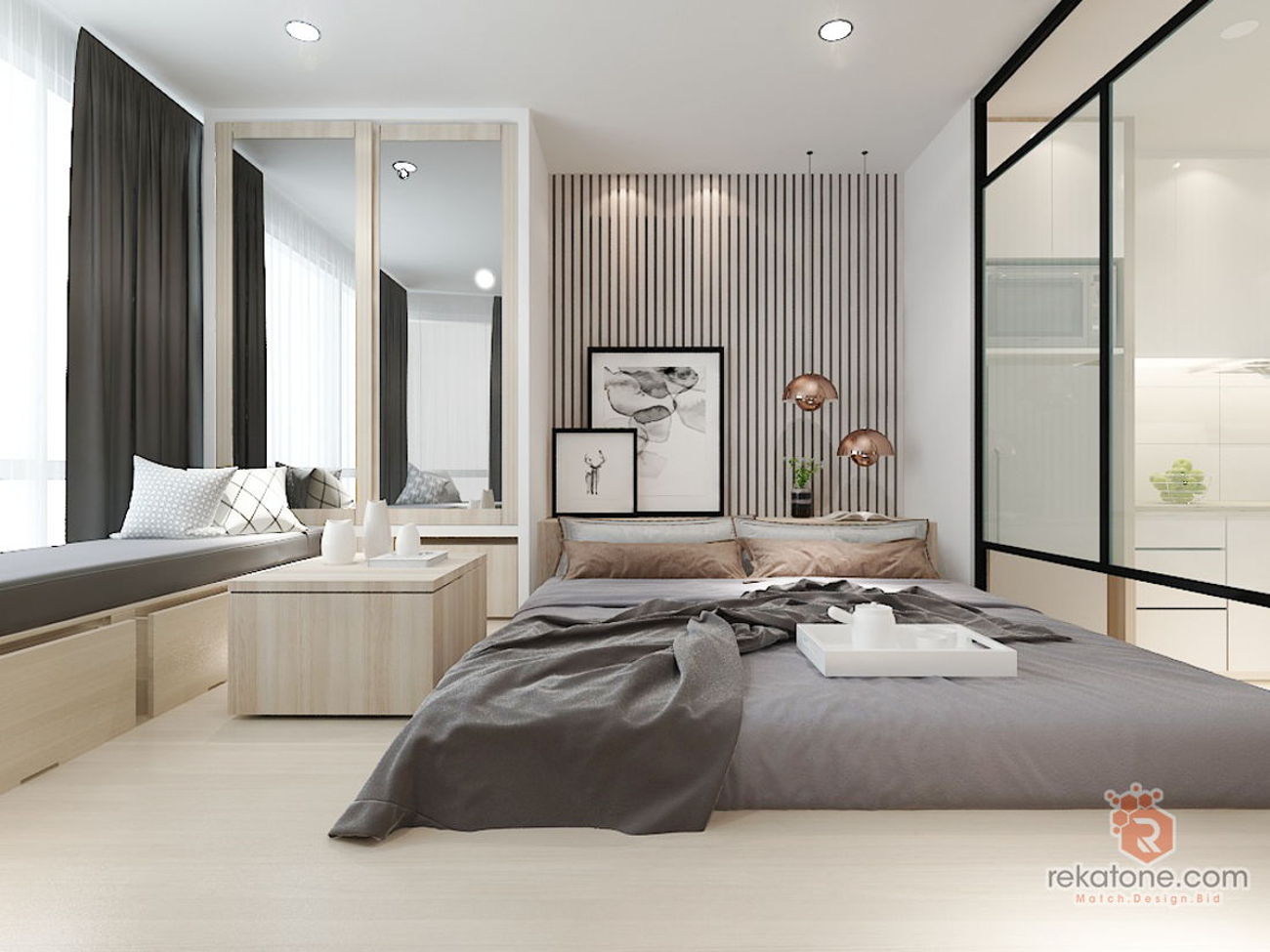 Malaysia is a country full of creative and talented Interior designers as they have helped many Malaysian homes to amplify their home interior design. Moreover, the interesting part is that Malaysian Interior designers have brought uniqueness into Malaysian homes and it became an interior design style that represents Malaysia. One of the approaches that Malaysian interior designers like to place in for bedroom design is installing glass panel as the material has the potential to brighten up the room and enhances the beauty of the bedroom. Most importantly, it can help in boosting up occupants' well-being.
4.

Headboard with backlights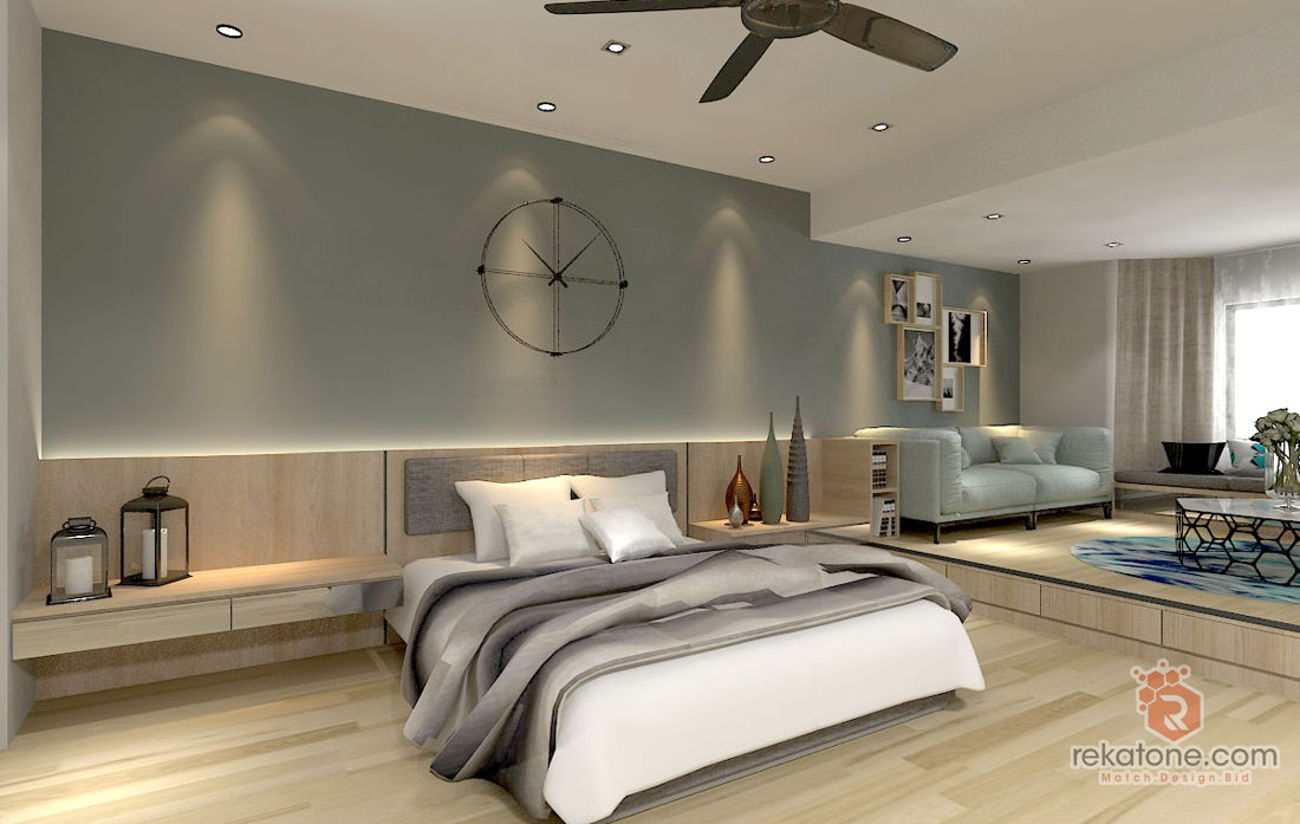 Light fixtures play the important role in brightening up the space when the sky turns dark. If you wanted to fix your home interior design, playing with light fixtures would be one of the options that you can pursue. Home Interior design has performed in many creative ways to enhance our homes and the best invention that you can get going with your bedroom interior design is getting a headboard with backlights. With an attachment of lights on your headboard, it helps to lighten up your bed space which makes you feel comfortable when you're performing activities on the bed such as reading, working and studying.
5.

Feature platform for bed placement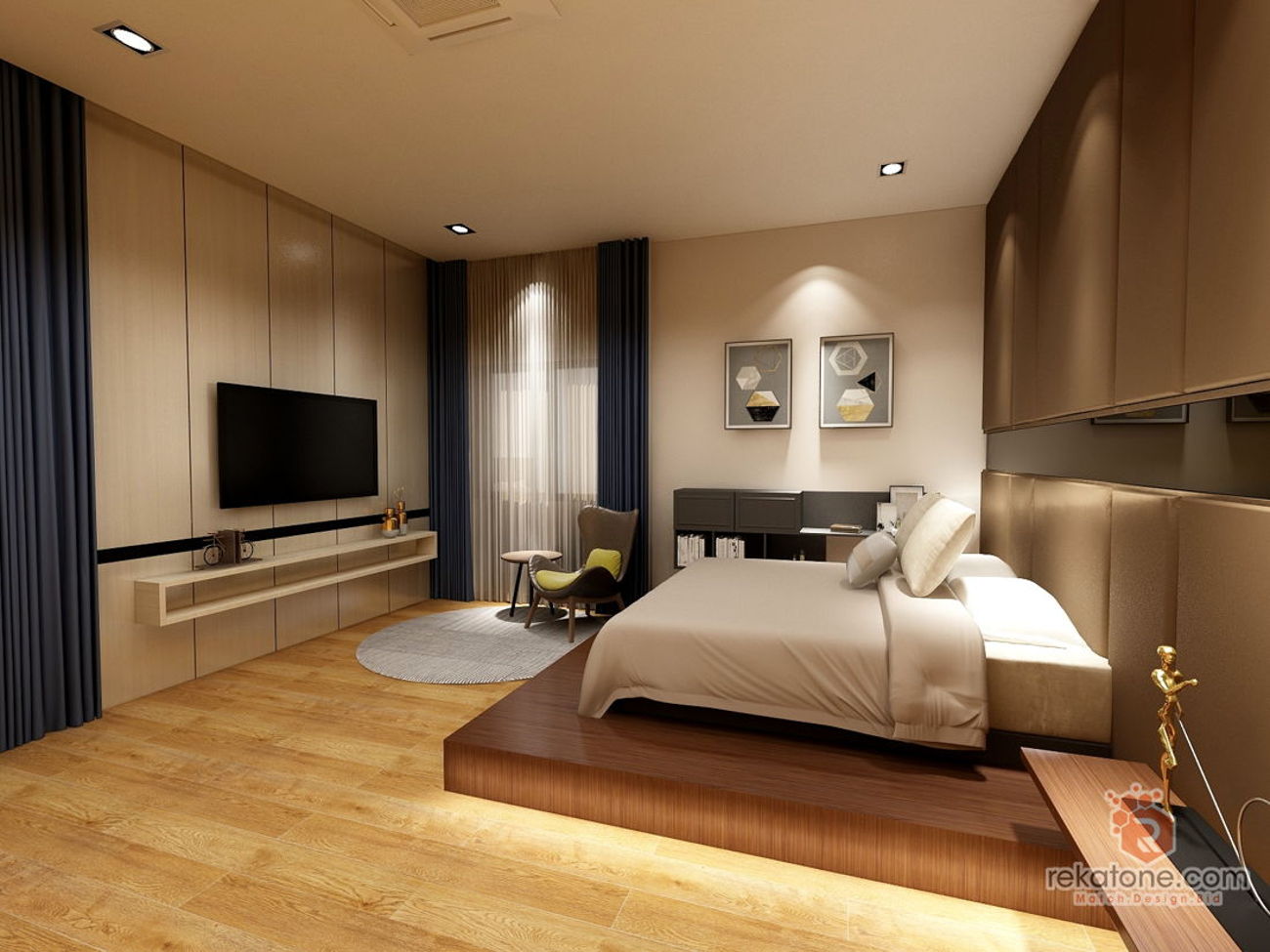 Every homeowner wanted to create uniqueness for their homes which including bedroom interior design. Thence, this makes interior designer and renovation contractor important figures in beautifying our homes. If you intend to create a luxurious bedroom, build in a platform for your bed placement is one of the best approaches to conceive luxe appearance. Aside from giving in the indulgent environment into your bedroom space, it helps in satisfying homeowners who are craving for unique bedroom design.
If you are ready to get your bedroom a new look, do not hesitate to contact rekatone.com right away for your bedroom enhancement.