5 Small Studio Apartment Decorating Ideas and Design Inspirations | rekatone.com
A studio apartment is a small house with one room that serves as the living area, bedroom, and kitchen. Living in a studio apartment can provide a variety of possibilities that will help you get comfortable with micro-living.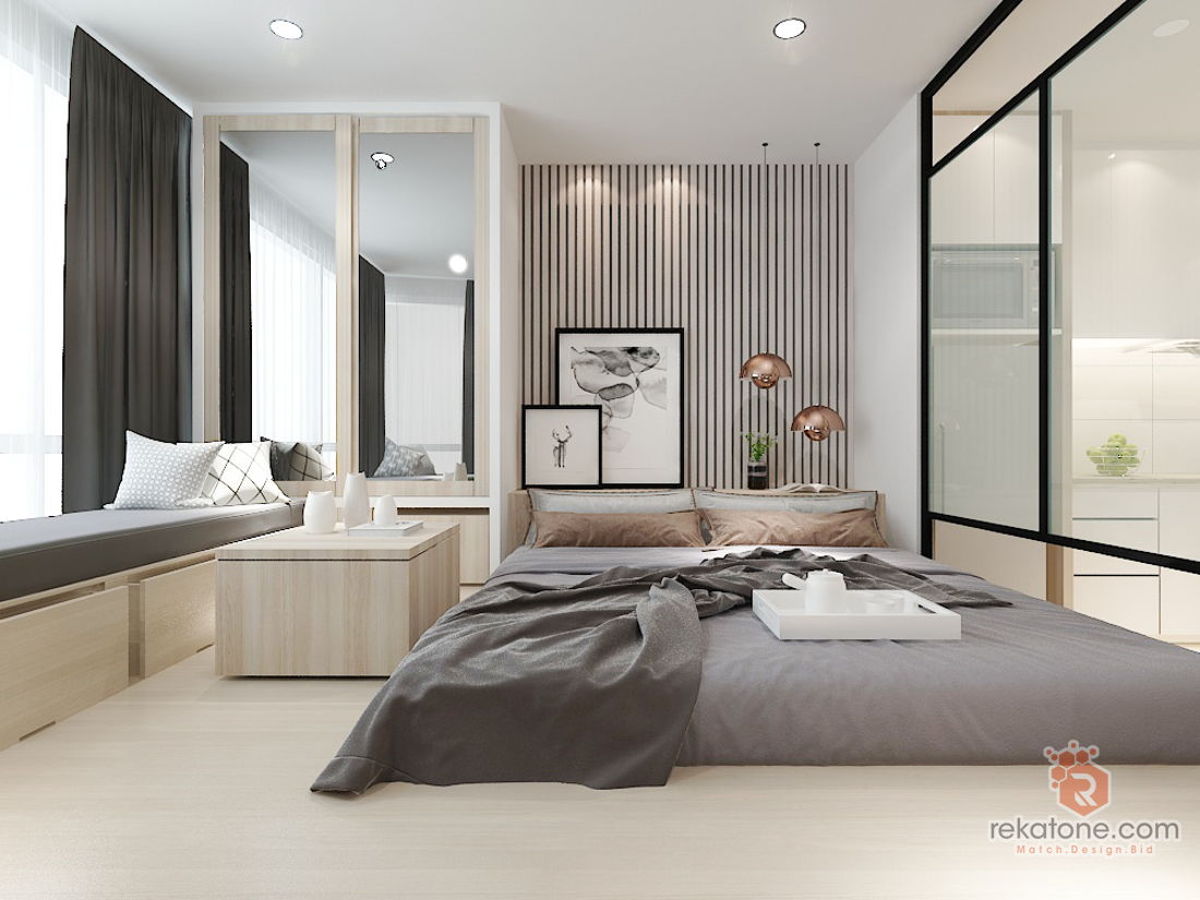 Photo Credit : MeliusForm Design Studio
It's difficult to prevent clutter and retain privacy in a studio apartment. Small space living is possible with a few clever layouts and design hacks—even in the tiniest flat! To enjoy your studio apartment design, check out our list of decorating advice, setup ideas, and organisational techniques!
1.

Separate Each Space
The bedroom is separated from the main dining and living areas by a creative glass partition. These modest partition solutions enable solitude while keeping the room's mood clean and light. a sense of separation from the rest of the house while still adhering to a minimalist design plan.
2.

Creating a

gallery wall
In a small studio, creating a gallery wall is an excellent way to define the area. A gallery wall provides individuality and colour like nothing else. Add wall hangings and other ephemera to a collection of art or pictures. Choose simple, coordinating frames or mix them up with a variety of ornate variants to provide visual interest.
3.

Decorate with Light Colors
Keeping paint colours light is a good studio apartment decor technique. White, light grey or beige are bright, clean colours that can make a small studio space appear larger. For added brightness, use soft-coloured draperies and lighting such as floor lamps.
4.

Choose

a Low Bed
For a dynamic layout that keeps your sleeping and living places separate, places your sofa on the other wall of the bed and add velvety bedding to keep the sensation comfortable.
Low platform beds not only save space in your studio, but a twin or full-sized mattress is also one of the most efficient methods to save room in a tiny apartment. For a more calm and cosy atmosphere, eliminate the bed frame entirely and place your mattress straight on the ground they can also provide the illusion of extra height.
5.

Keep your kitchen simple
It is not a good idea to purchase trendy kitchen items. Kitchen gadgets for adults are similar to children's toys. Immersion blenders, stand mixers, and French presses. Invest in some decent, sturdy culinary tools, even if they aren't fancy. Kitchens are often the first rooms in the house to become overrun with gadgets and equipment that you thought were great buys at the time.
These are the units that our professionals designed. We do provide consultation and help you save money on your interior design by using eBidding. To get to know more about our service, click here to get a free quote.