Interior design tips to make kitchenette spacious and luxurious | rekatone.com
The ways for kitchenette owners to create the illusion of a more luxurious kitchen interior design space。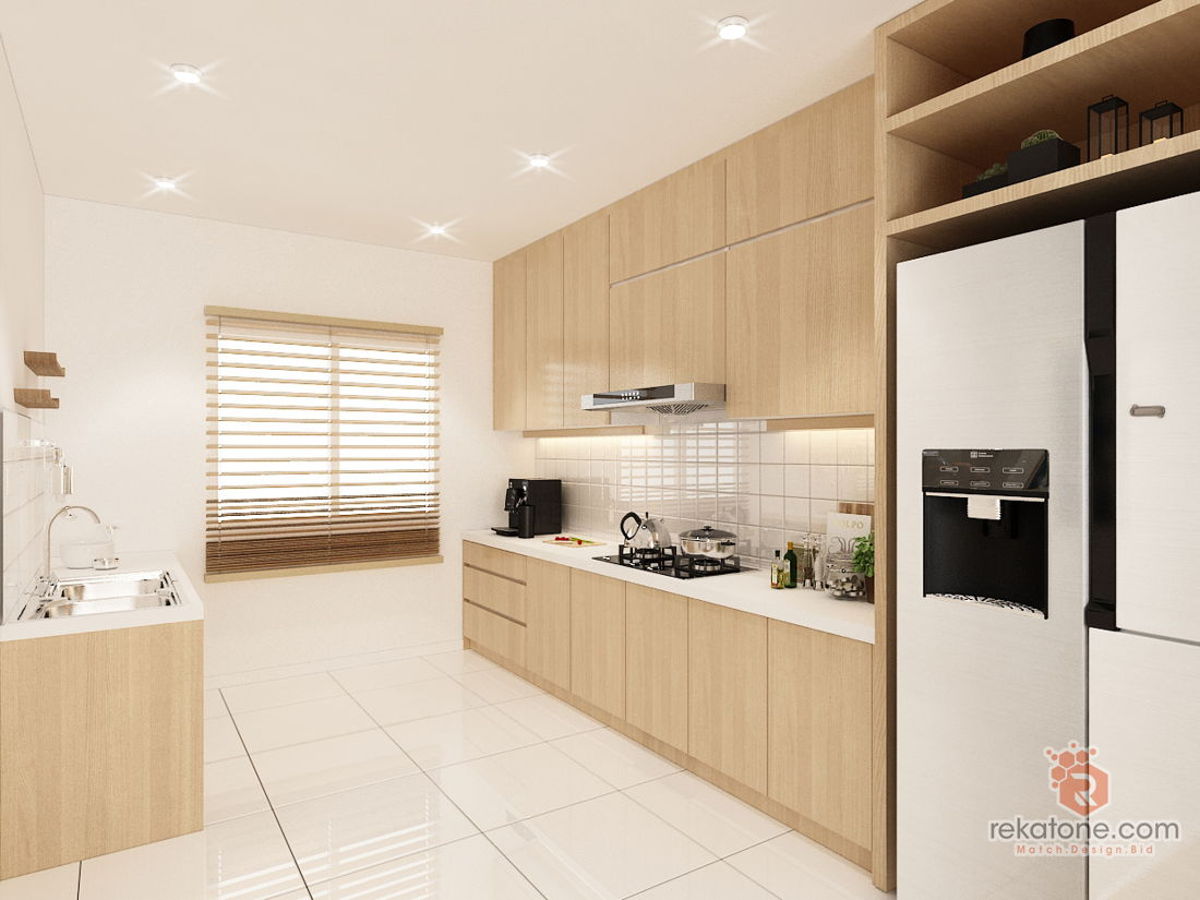 A kitchen that has a spacious, attractive and modern interior design is everyone's favourite. But not all have the chance to realize their dream because of the limited kitchen interior design space. Fret not, a kitchen's space does not define the comfort level in that area, especially for those who have a small kitchen in their home design. Here, we share the ways for kitchenette owners to create the illusion of a more luxurious kitchen interior design space.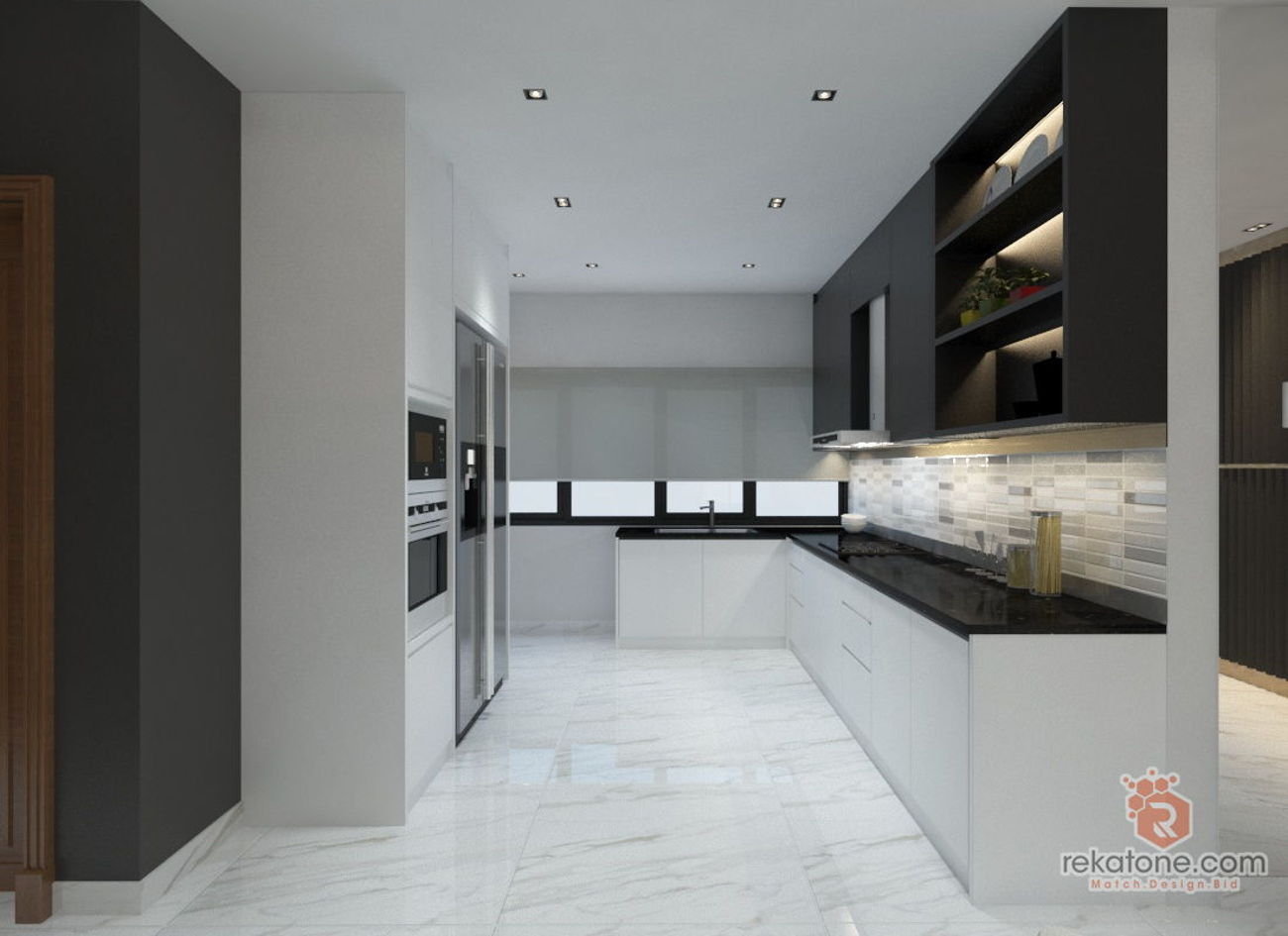 Colour selection
The choice of white and bright neutral colours will give the illusion of a clean and spacious kitchen interior design look. Predominantly most of these colours that are used for the walls and also kitchen furniture such as chairs and kitchen cabinets will enhance your modern interior design for your home. You can combine white with the colour of your choice but bear in mind not to overdo it in the colour selection as it might be seen as messy for your kitchen interior design. The bright white kitchen interior design wall, especially near the window, will enhance the lighting and also create a more open space for the kitchen interior design.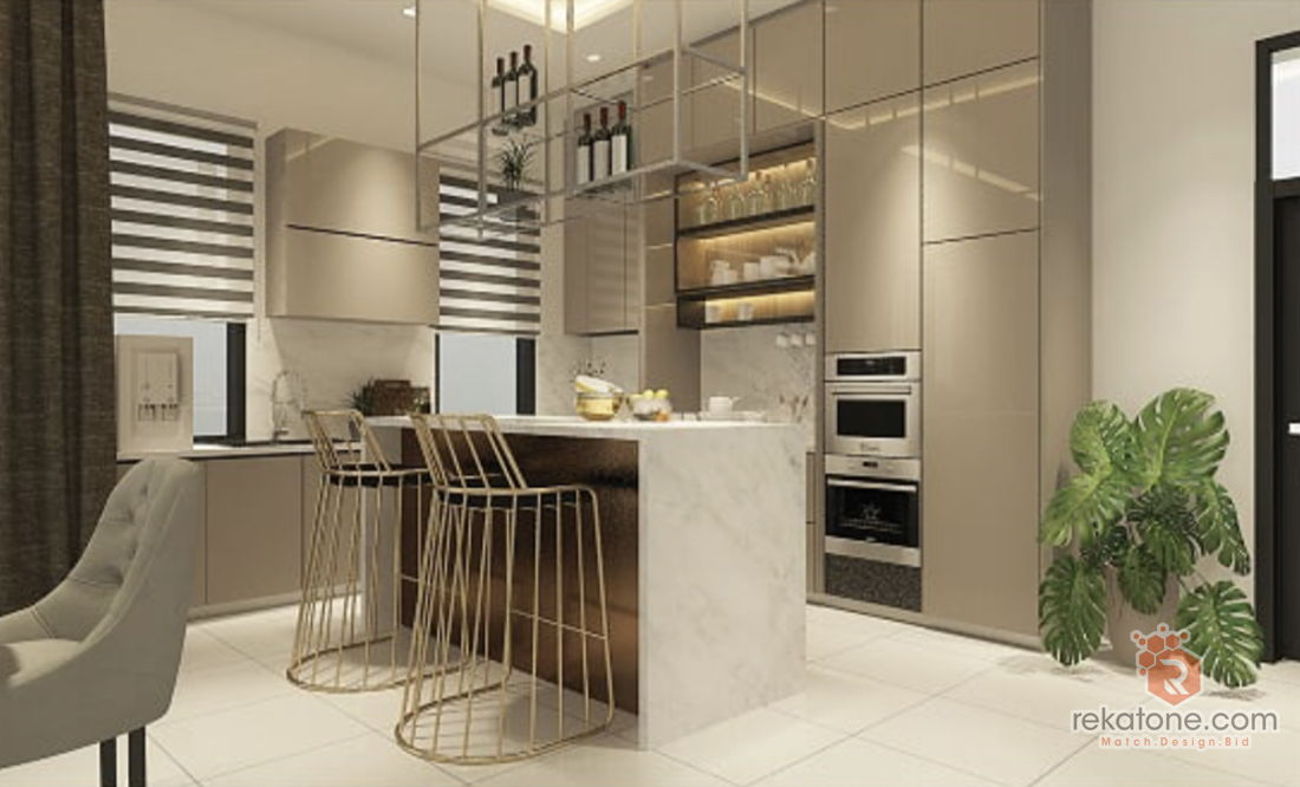 The use of a special trolley for your kitchen interior design
The use of the trolley is efficient and easy to use, notably in kitchens interior design that has a narrow space. Other than the purpose of saving space, it is also capable of making the kitchen interior design look neat. Furthermore, this trolley has a dual function which can be used as an island table for food preparation or as a small portable dining table. Some of the trolley design can be installed together with the cabinet for space-saving.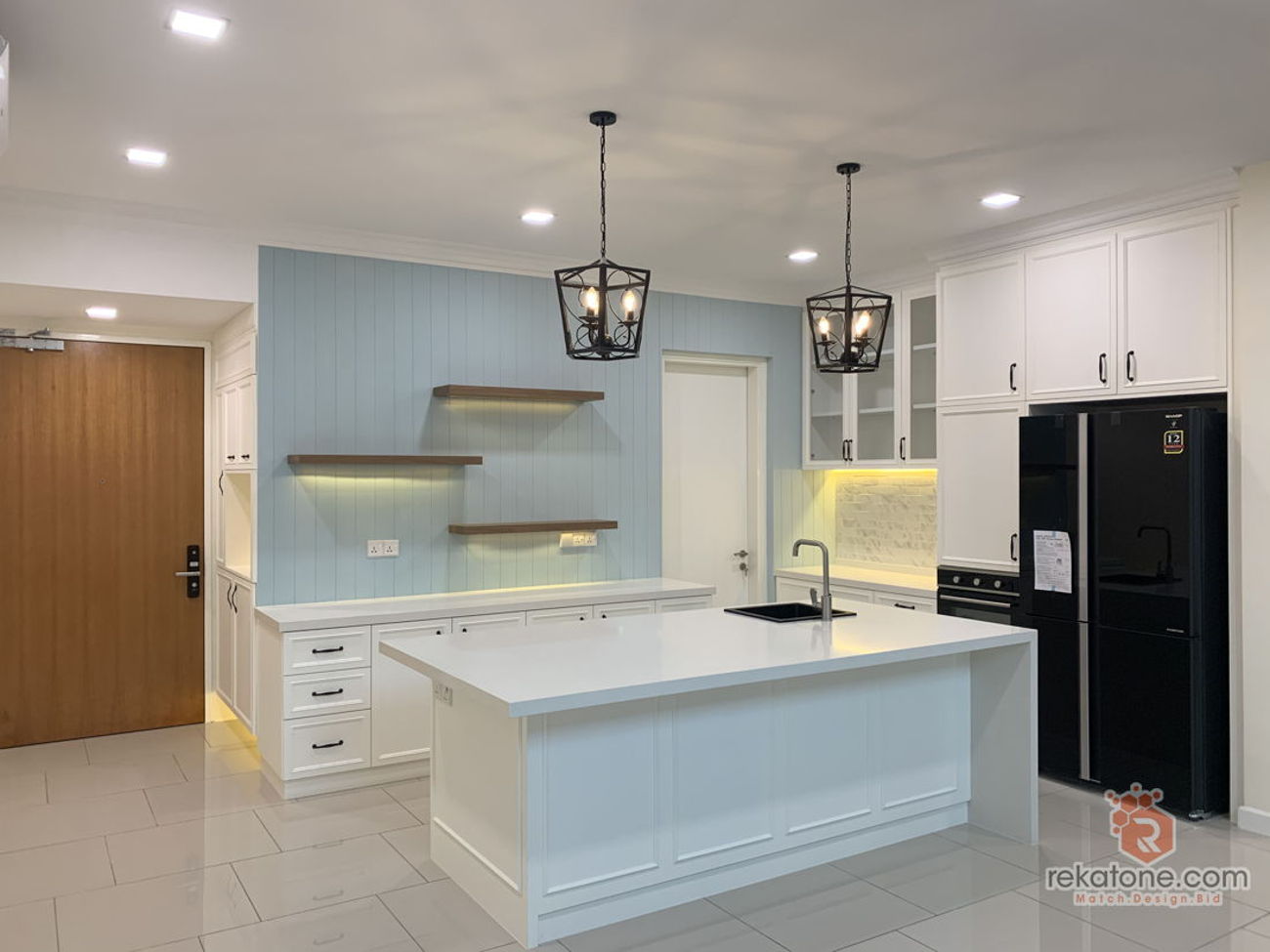 Take advantage of the use of shelves
Instead of placing your items here and there, you might want to put shelves on the walls so that your items look neatly arranged for kitchen interior design. You can store any items or kitchen accessories on the shelf. These open shelves are very flexible for storage, and space-saving can also be obtained. To make the shelves look more organized, you can use unique dining containers for your kitchen items or standardize your kitchen accessories in 1 or 2 colours only. Often, you may use a complimentary yet neutral colour such that it does not conflict with the items put on the shelf for your kitchen interior design.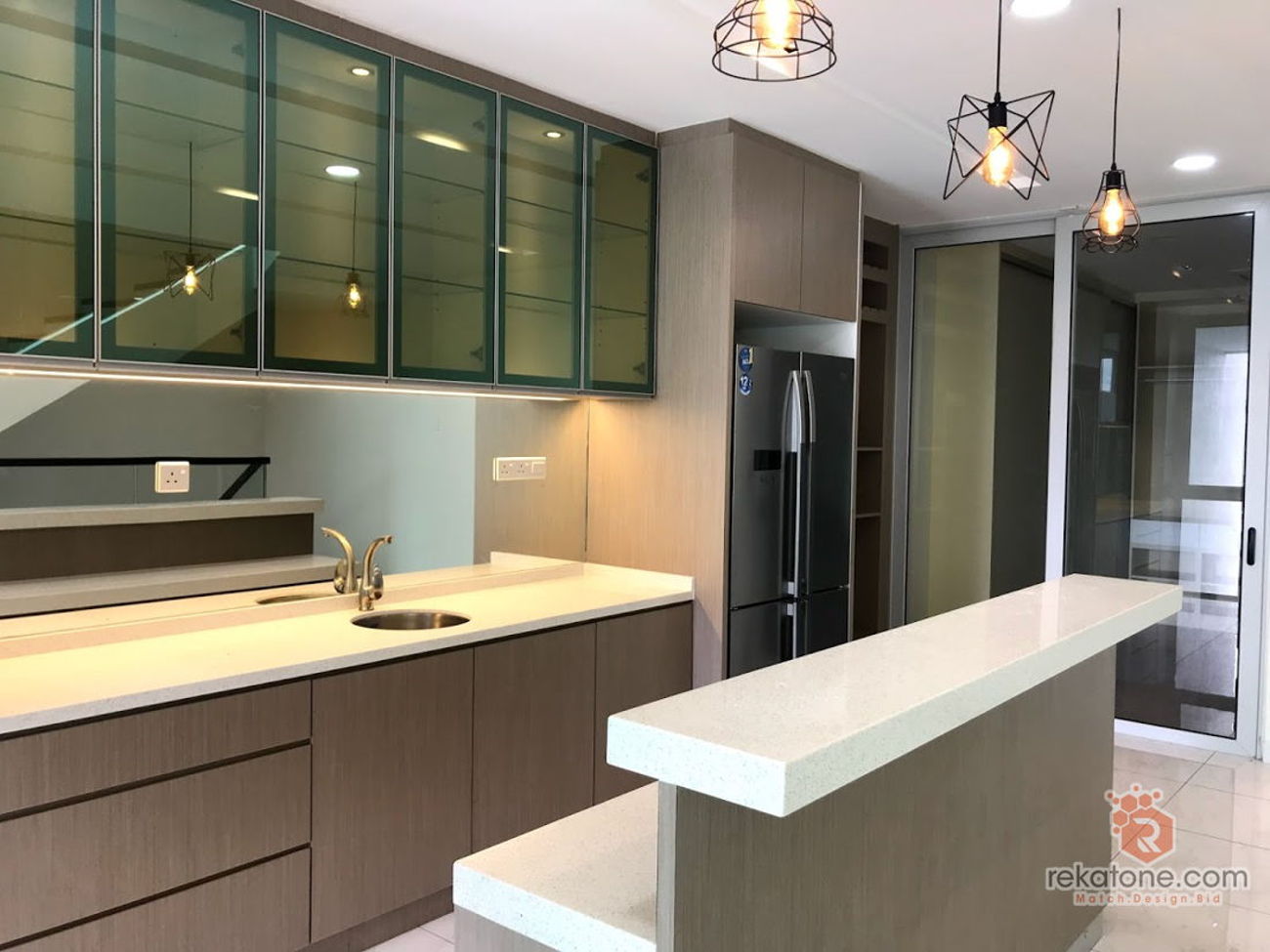 Avoid placing things on your kitchen countertop
To make your kitchen interior design look tidy and pleasing, you must practice putting your utensils or cooking ingredients in the cabinet or drawers, especially for ingredients that do not need to be refrigerated. If you want a distinction, you can use glass cabinets to store the items to highlight the modern interior design for your kitchen.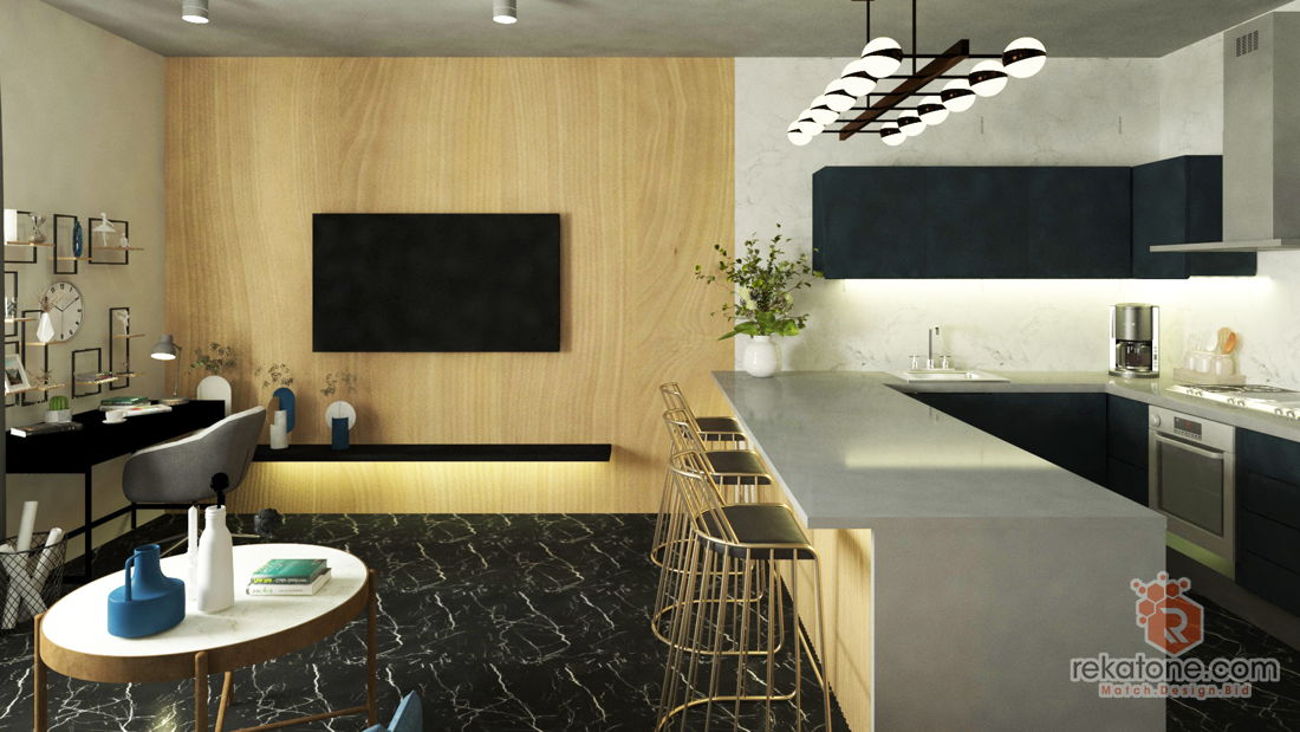 Minimalist kitchen interior design
Implement the concept of "less is more" or better known as minimalist interior design for your kitchen. Minimalist interior design is ideal for the kitchen interior design, which has limited space. The minimalist interior design concept for your kitchenette is suitable as it can give a neat look to your kitchen while minimizing the use of space, and this will surely make the kitchen look more organized, tidy, and straightforward.
Tidy up the kitchen and select only the essential items to be placed in your kitchen interior design so that it looks orderly and will ease you in managing it. To make it more gorgeous, you can hang paintings or inspirational quotes on the kitchen wall as well as beautiful decorative lights that match decoration for your kitchen interior design.